On Saturday 17 December 2022, the cyclo-cross peloton headed for the beautiful setting of Val di Sole. Puck Pieterse and Michael Vanthourenhout proved to have the best snow skills. They were able to celebrate after a stunning solo.
WOMEN ELITE
A white carpet of snow, we don't see that often during the cyclo-cross season, but we did in Italy's Val di Sole. There, the riders were able to show their skills on the ice. The technically strong Pieterse did so with bravura and she triumphed after a nice solo.
The Italian champion, Silvia Persico, immediately displayed her Italian colours in the snow of Val di Sole as she was first to take the snowy field. But a bend later she suffered a slip together with Puck Pieterse which also hampered World Cup leader Fem van Empel.
Ceylin Alvarado made the fewest mistakes and was thus able to immediately take a considerable lead on Marie Schreiber, the closest rider. Van Empel had less luck due to the delay in the first bend and because of that missed start she was left to chase.
Alvarado, of course, did not wait and she finished the first lap flawlessly with a good lead over the new chasers Pieterse and Persico. That duo was able to close the gap on Alvarado entering the second lap, giving us three leaders. Manon Bakker followed in fourth place, ten seconds behind. In the meantime, the young Pieterse took over the lead from Alvarado and pushed strongly for the first time.
Meanwhile, news came from behind in the field that Van Empel had fallen hard against a post. She remained on the ground and could not continue her race.
A little later, she was taken away on a stretcher to the first aid post. Alvarado, too, did not remain faultless and went down in the snow. A few seconds later, Persico also made a slide on the same climb which allowed Pieterse to ride away. But even the fine technical rider that Pieterse is could not prevent her from making a slide. That slide did not, however, affect her lead which had gone up to 16 seconds at the start of the third lap. Chasing behind were Alvarado and Persico who were playing leapfrog. But it was Alvarado proving to be the technically stronger one of the two and after another fall by Persico, she was able to break away from the Italian for good.
The rest of the field was stretched out behind and the mistakes began to pile up for Persico. A strong Manon Bakker was riding in fourth place which would be her best result of the season. However, due to Persico's series of falls, Bakker suddenly also gained sight of third place and it became an exciting duel for the final podium spot in the last lap.
Pieterse, meanwhile, rode flawlessly to victory and could crown herself ice queen of the day. Alvarado was able to take second place and, after another fall by Persico in the final bend, the Italian still lost her third place to an overjoyed Bakker. Van Empel remains leader in the standings even though she had to leave the race. The European Champion still has a nice lead.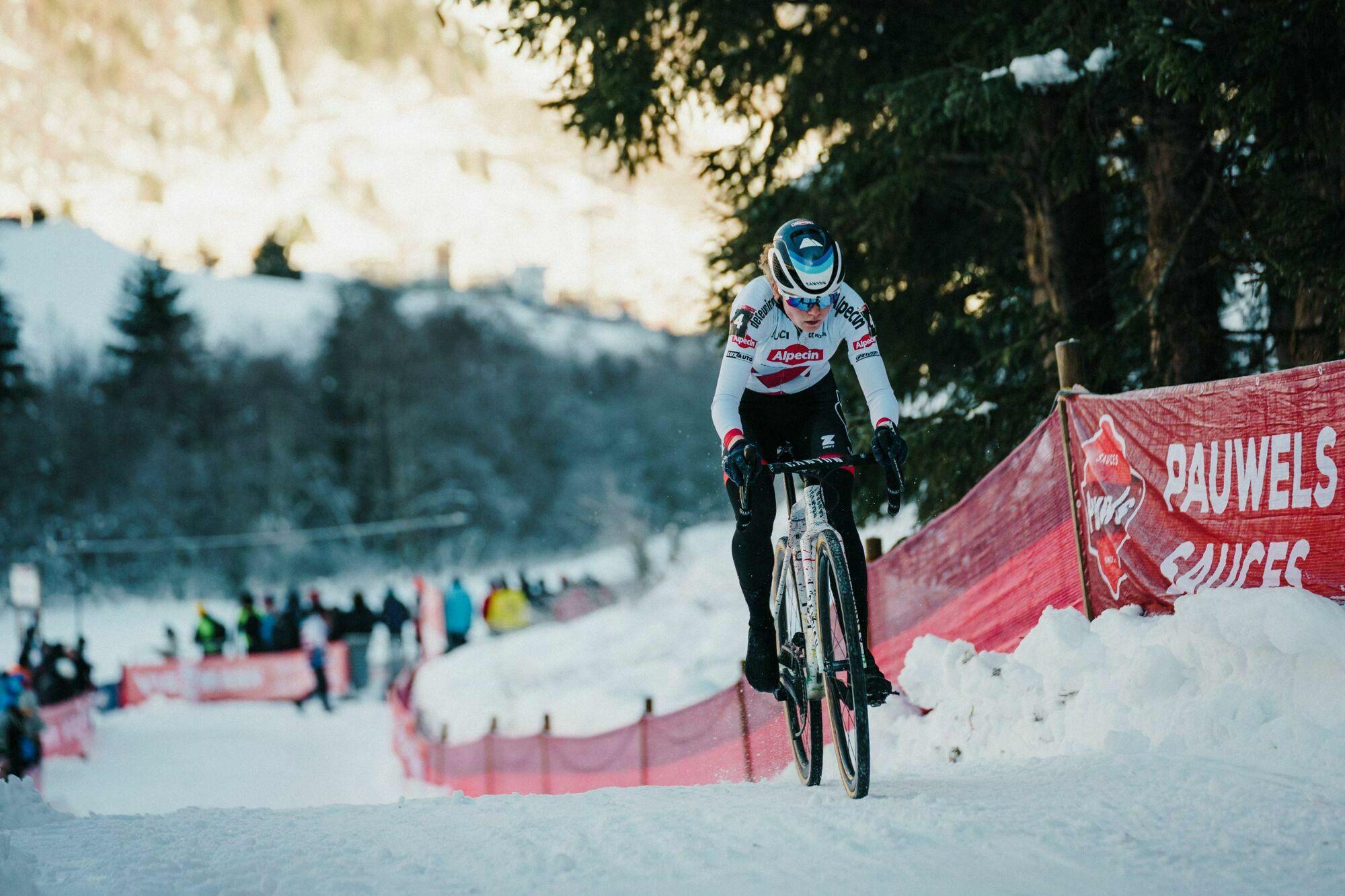 MEN ELITE
Snow and ice created a spectacle in Italy's Val di Sole. The unique surface gave European champion Vanthourenhout wings. He completed an impressive solo. The young Belgian Vandeputte and the Swiss Kuhn were almost as happy with their second and third places.
It was Swiss rider Kevin Kuhn who immediately felt comfortable in the snow of Val di Sole and who took the lead. The Belgian Niels Vandeputte followed with European champion Michael Vanthourenhout in his wake. Mathieu van der Poel did not get away so well at the start. He was left to chase. A task that was not easy on this slippery surface, as riders could not employ 100% of their power.
Soon a leading group of five riders formed, with Iserbyt, Vanthourenhout, Kuhn, Vandeputte and Sweeck. Kuhn kept up the pressure but it was Vandeputte and Vanthourenhout who broke away a little later in the Italian snow. In the background, Van der Poel did not seem to want to take any more risks and he let the leaders go. In the fourth lap, Vanthourenhout felt his moment had come and tried to break away from Vandeputte.
The young Belgian was not able to answer the acceleration of the European champion and had to leave a gap. Behind them, a small battle was developing for third place with Iserbyt, Sweeck and the Swiss riders Kuhn and Rüegg.
Chain problems forced Iserbyt to a halt moments later, giving leader in the standings Sweeck together with Kuhn a clear run at third place. In the fifth lap, Vandeputte suffered a flat tyre. This made it exciting again for second place as it allowed Sweeck and Kuhn to come back to within 8 seconds of Vandeputte. Behind them, Iserbyt had an unfortunate fall. He had to be taken away on a stretcher, just like his teammate Van Empel.
In the last lap, Swiss Kuhn managed to distance himself from birthday boy Sweeck. But Sweeck fought back and it was still an exciting battle for third place. But that did not concern Vanthourenhout at all. He was able to celebrate big time after a strong solo in the snow. Vandeputte took an impressive second place and was extremely happy. He even celebrated with a wheelie. Kuhn hung onto his third place which he was also very happy with.