Belgian champion Wout van Aert was able to make the traditional victory gesture in Diegem for the first time in his career. After a blood-curdling duel, he made it just ahead of world champion Tom Pidcock and Mathieu van der Poel. The three tenors managed to gain a lead early in the race and turned it into a real spectacle of a cross race. The Dutch racer Puck Pieterse put on quite a demonstration in Diegem, riding in the lead from start to finish. Right away on first taking part in the Telenet Superprestige, she was able to throw her arms up in the air to celebrate her victory. Her compatriots Shirin van Anrooij and Ceylin Alvarado flanked her on the podium.
ELITE WOMEN
Blanka Vas and Puck Pieterse had the best start in artificial light in Diegem. They immediately led the peloton in ribbon formation behind them. A little further back than she liked, we found Shirin van Anrooij, who had a poor start. Even a slight kneel could not slow Pieterse down; the young Dutchwoman was off to a lightning start and sped away from her competitors. She was on her own jumping over the bars and immediately built up a nice lead.
Initially, her teammate Ceylin Alvardo, Denise Betsema and Vas started the chase. In the background, Van Anrooij was fighting hard to get back to the front of the race, and she managed to do just that.
As Vas fell back at the front, we saw Van Anrooij and Inge van der Heijden passing Alvarado and Betsema. A little later, Van Anrooij left her compatriot Van der Heijden behind and set course for Pieterse. She seemed to be getting closer and closer; at one point, her lag was only six seconds, but she could never catch up. Pieterse, who made good use of getting over the bars each time, was able to ride on again.
For the last place on the podium, there was another battle between Alvarado and Van der Heijden. In the end, it was Alvarado who made it. This also makes her the new leader in the overall Telenet Superprestige standings. At that point, Pieterse had already arrived solo after having led the entire race. Van Anrooij ended up in second place.
(continue reading below the picture)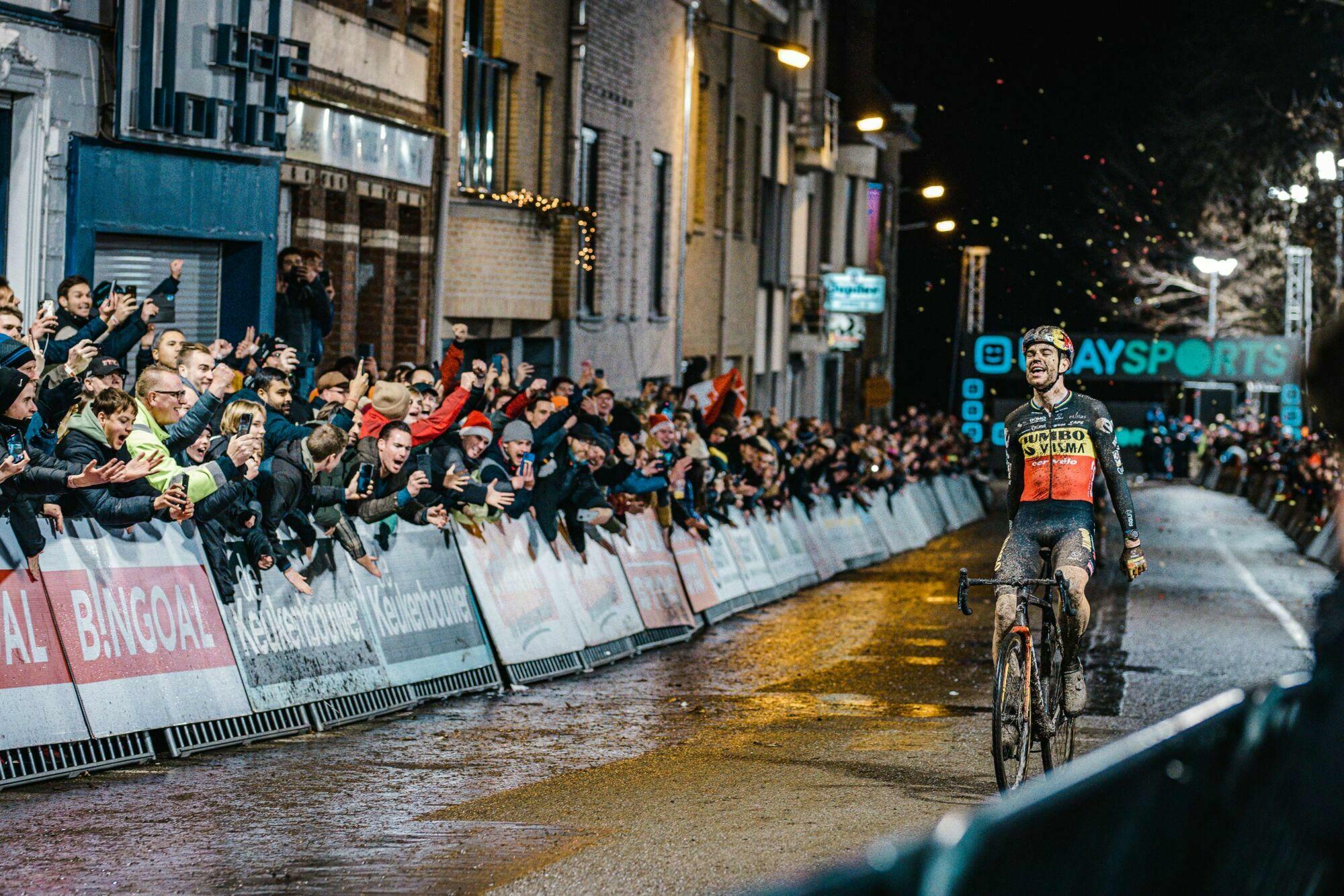 ELITE MEN
In his familiar style, Swiss champion Kevin Kuhn put in another signature quick start. We immediately saw problems hampering some riders at the back of the pack. After Kuhn, it was Eli Iserbyt's turn to ride to the head of the race. World champion Tom Pidcock and Wout van Aert, Mathieu van der Poel and Lars van der Haar also had a good start. On his first passage over the bars, Michael Vanthourenhout fell. The European champion landed on his ribs, but was fortunately able to continue.
Pidcock was the first to put the rest under pressure, after which only Van Aert, Pidcock and Iserbyt were able to follow. By the time the second lap started, the four were already riding a nice lead together. Van der Poel took the lead after a strong passage through the sand. He opened a small gap, and a little later, Iserbyt had to drop behind Van Aert and Pidcock. These two, Van Aert and Pidcock, rode towards Van der Poel again, newly completing the trio of leaders.
It was clear that the sandpit would be crucial. After a bad passage through the sand by Van Aert and Pidcock, who were already a gap behind, Van der Poel was again alone in the lead.
A round later, we saw a similar scenario: Van Aert had a poorer passage through the sandpit, suddenly leaving Pidcock riding alone in the second position. Still, the Belgian champion was not ready to give up. While Pidcock kept getting closer to Van der Poel, Van Aert first rode phenomenally up to Pidcock and then up to and past Van der Poel.
The Dutchman did not resign himself to the situation. He was able to ride up to Van Aert once again, after which Pidcock also joined them. It was short-lived for Van der Poel. Van Aert and Pidcock pulled away from the Dutchman and turned into the last lap together. The two fought for victory the whole lap, but the decision only came in the penultimate corner. Just before the traps, Pidcock had to get off his bike a little earlier. Van Aert sensed his opportunity and made up the difference. That is how the Belgian champion won his second Telenet Superprestige round in a row, his first victory ever in Diegem. Pidcock finished second, and Van der Poel, who has won the past six races in Diegem, finished third.